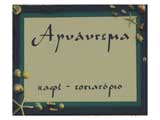 Milos belongs to the magical Cyclades and stands for its variform beaches, the beautiful picturesque villages with the white houses and the stoned alleys, the museums and the archaelogical sites and foundings, such as the statue of Afrodite. You will never forget the sea caves, the beutiful beaches, the quality food, the night-clubbing, the relaxation with your afternoon coffee having the Aegean as a view.
The cafeteria - restaurant Agnantema is situated between the two villages of Plaka and Tripiti. You will find us on your way to the Catacombs, that are considered to be one of the most important findings of the early christian times, and the wonderful Ancient Theatre. You can combine the visit to these sights with a good meal or a nice coffee to our restaurant.
At Agnantema you will taste traditional greek dishes (squid, stifado, saganaki, souvlaki) made with the finest ingredients, or enjoy your coffee having the sea as a view.
It's really worth while to gaze and relax in our peaceful environment at Agnantema. We suggest you come by the time the sun falls. You will never forget the sunset!
Ìilos, Cyclades, GREECE
Tel.: +30 22870 22939
e-mail: agnantema@hellasislands.gr
---
© 1995-2006/7 akron-hellas.net Hellenic tourism information